Join our community of subscribers to stay up to date with our live online events, informative articles and news from around the ISKCON world, right in your inbox. 
We are ISKCON's number one platform for original,  relevant, informative and enlivening content distributed through email and social media.
We especially focus on caring for devotees, building better understanding of Srila Prabhupada's ISKCON mission and looking deeply at issues affecting devotees' lives.  Our programming includes: 
In-depth celebration of major festival times, especially Gaura Purnima and Kartik month.

Observing all the major Acharya appearance/disappearance days

 

Highlighting initiatives by younger devotees

 

 A deep exploration of the history of the GBC

 

 Special programs showcasing ISKCON efforts in different areas of outreach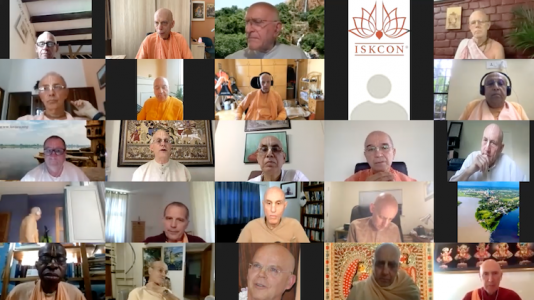 Over 100 senior Vaishnavas and Vaishnavis participate in our broadcasts, currently in English, Hindi and Bengali with more languages to come.
Highlights of Our Broadcast Series
The overwhelmingly positive response to last year's Gaura Purnima special series - Celebrating Caitanya Caritamrita - has given us great enthusiasm to plan another online Gaura Purnima series of discourses. This year, in celebration of Srila...
read more
Don't miss out on news of our events, articles and other valuable content.