The worldwide International Society for Krishna Consciousness (ISKCON) community is shocked and saddened by the recent series of violent events directed against the Hindu minority in Bangladesh, including our own ISKCON temples and members.
Now, in this critical time, the worldwide devotee family must step forward to show their deep care and support for the Bangladesh devotee community.
Towards this end, the ISKCON GBC SPT (Strategic Planning Team) has launched a campaign through it's partner ISKCON Online, Inc. (a US based 501 (c)3 non-profit) to raise the necessary funds to support the affected devotees and help rebuild and secure the affected ISKCON properties.
To start, our chair, Gopal Bhatta das has made an extraordinary gift of $25,000, nearly half of the required funds for the immediate needs.
We invite all devotees, friends and well-wishers to step forward and join us to support the affected families and help rebuild.
Donate By Credit Card through Paypal:
GoFundMe Campaign

You may also contribute through our GoFundMe campaign and share it with others – https://www.gofundme.com/f/ISKCON-Bangladesh-appeal


Bank Transfer
For details on direct bank transfer please write us at Bangladeshrelief@gbcspt.com
What Happened
On 13th October, 2021, radical extremists began strategic, coordinated attacks on Hindu minorities in Bangladesh. The attacks continued until October 15th, 2021, with innumerable homes, shops, puja pandals, and temples being looted, burned, and destroyed. There are currently 6 to 10 fatalities reported in various media outlets, while many more people have sustained injuries or been hospitalized.

On 15th October the ISKCON Sri Sri Radha Krishna, Gaura Nityananda Jiu Temple in Choumoni, Noakali District was part of these attacks. Around 3 PM in broad day light. The extremists began their ruthless attack. The Ratha of Lord Jagannath, murtis of Srila Prabhupada, spiritual books, vehicles, and other temple property/ paraphernalia were burned, destroyed, and looted.
Most unfortunately, two devotees, Pranta Chandra das (whose dead body was found in a pond the next day) and Jatan Chandra Saha, were murdered during these attacks. Another devotee, Nimai Chandra das, remains hospitalized in a critical condition. All residential devotees were physically attacked and have sustained injuries.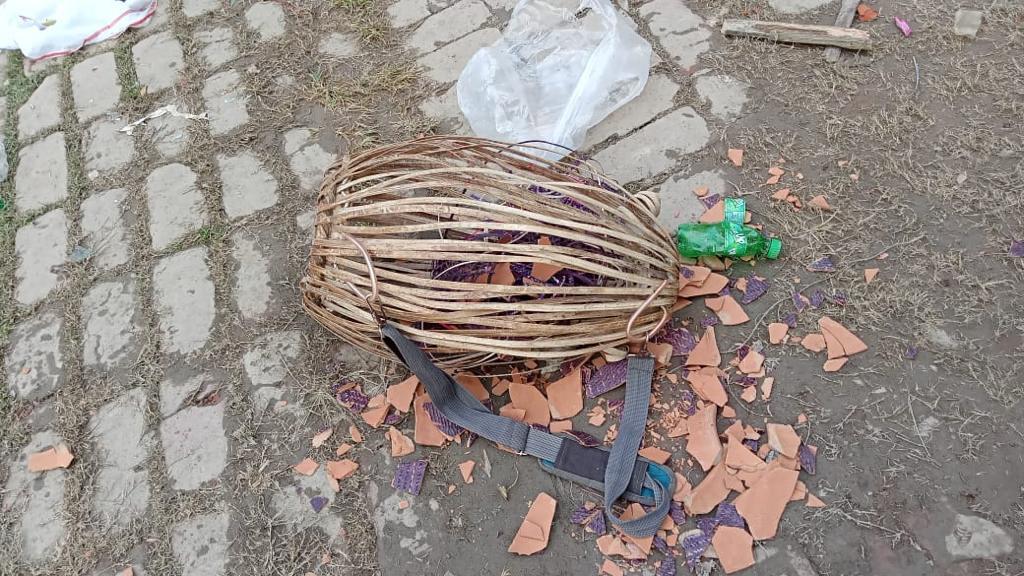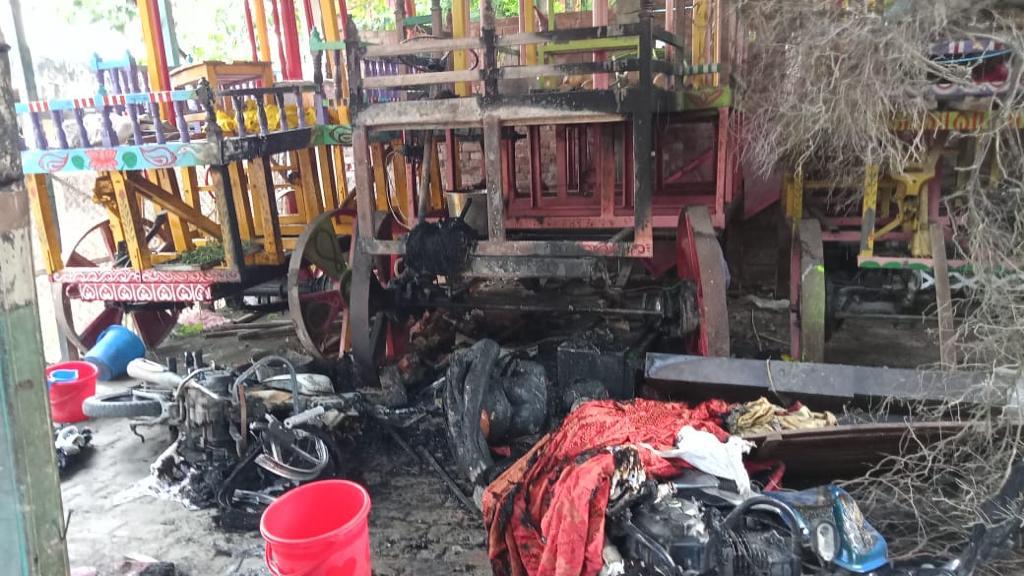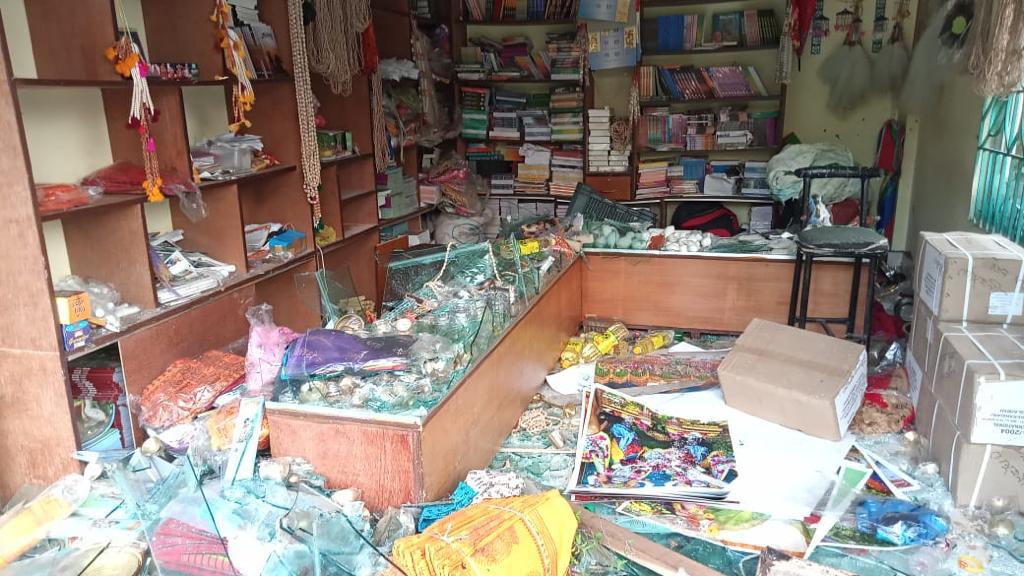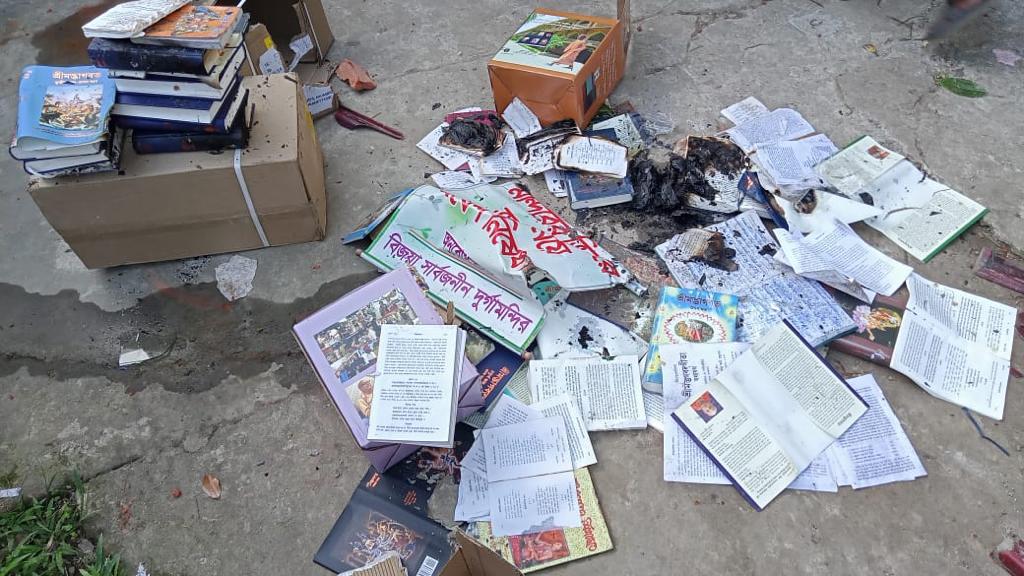 The Need
You can show your support for ISKCON Bangladesh in this time of need by donating financially. All funds will be forwarded to ISKCON Bangladesh.
Our campaign target is $100,000
Of this, the amount required for the immediate needs of ISKCON Choumoni is US $60,000.
$20,000 will be used for the urgent, basic personal needs of the families of the murdered devotees, other affected families, and the temple resident devotees.
The balance $40,000 will be used for the following temple restoration work:
Srila Prabhupada's murti
Building repair
Boundary wall
Steel gates
Deity worship paraphernalia
Kitchen utensils
Other security systems
Additional funds raised through this campaign will go to a planned larger $1.2 million campaign to create similar security arrangements for all ISKCON centers in Bangladesh.
Please contribute generously. All donations are received through ISKCON Online, Inc. and are tax deductible for US residents.
All funds will be remitted to ISKCON Bangladesh for exclusive use in this effort. Complete accounting for all funds is assured by the ISKCON Bangladesh leadership, headed by H.H. Bhakti Purusottama Swami (Co-GBC Zonal Secretary) and Naru Gopal das (Regional Director).
Thank you,
ISKCON GBC Strategic Planning Team