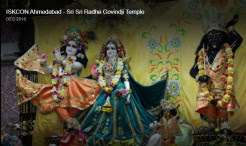 ISKCON Ahmedabad
Some residential devotees at ISKCON Ahmedabad have tested positive for Covid-19. Almost all pujaris have tested positive and are quarantined and second initiated congregation devotees have taken charge of Deity seva. The temple is open to public for darshan and the management is taking necessary precautions to ensure that public do not mix or come in contact with resident devotees. All devotees are requested to kindly pray for the pujaris and devotees at ISKCON Ahmedabad.
---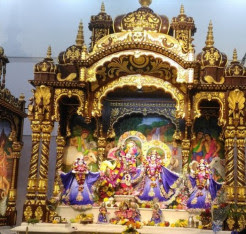 ISKCON Mira Road
More than 10 resident devotees (including pujaris) have tested positive for Covid-19 at ISKCON Mira Road temple out of which 2 devotees are in hospital. All resident devotees are quarantined and in the process of getting tested.
Congregation devotees are helping with pujari and other related services.
The management have requested for prayers for the quick recovery of all devotees.
---
Weekly Inspiration – Books are the Basis
Dear ISKCON Leaders and devotees,
Please accept my humble obeisances. All glories to Srila Prabhupada.
"Please try to understand our philosophy through various books that I have already published and sometimes after you will have to carry out this order of disciplic succession." Srila Prabhupada Letter to Prahladananda — Hawaii, 14 March 1969
Kindly help us spread the word to inspire devotees to read Srila Prabhupada's books every day.
We present this week:
Thank you for your support.
Your servant,
Tapana Mishra dasa.
Executive Director
Ministry of Education, ISKCON
Please also subscribe to our channel
youtube.com/IskconMinistryOfEducation
Visit our website to get involved with the Ministry.