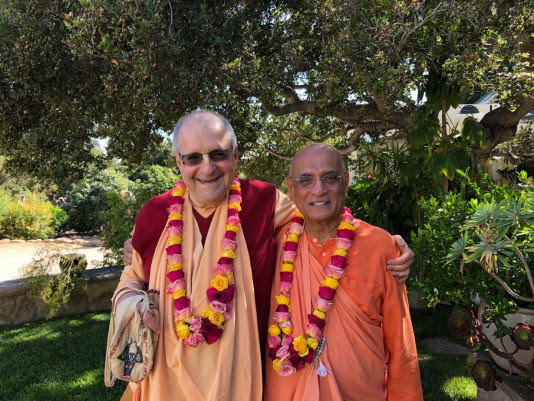 HH Giriraj Swami shares his appreciation of HH Bhakti Charu Maharaja
Dear Bhakti Charu Swami Maharaja,
Please accept my humble obeisances. All glories to Srila Prabhupada. And all glories to your wonderful service to him.
One of your most prominent qualities while you were physically with us was your deep love for Srila Prabhupada. Very soon after you met him, he included you in his personal staff and made you his secretary for Bengali and Hindi correspondence. Soon thereafter, he gave you first and second initiation and then sannyasa. And you personally, lovingly served him throughout his last days.
You were also devoted to ISKCON. You always considered ISKCON to be a unique creation of Srila Prabhupada's and always wanted to serve ISKCON–both the devotees in ISKCON and ISKCON as an entity, a manifestation of Srila Prabhupada. You loved anyone who loved Srila Prabhupada.
You were a very pure-hearted, loving person. Your love for Srila Prabhupada was seen in your love for the devotees and for people in general, whom you wanted to bring to Srila Prabhupada–and in how you encouraged devotees to increase their engagement, take on more responsibility, and become more loving, humble servants. The more responsibility one accepts, you once explained to a devotee in Mauritius, the bigger servant of the devotees one becomes. This reminded me of something Srila Prabhupada once said when a disciple came into his room in Mayapur one day and began to complain about the management. Srila Prabhupada said, "If you think you can do better, why don't you?" Somehow, the disciple came out and announced that Srila Prabhupada had made him the temple commander, and he began to boss around the other devotees. Some devotees complained to Srila Prabhupada that the devotee had said that Prabhupada had made him the temple commander and that now he was barking orders at everyone. So Srila Prabhupada called for the devotee and instructed him: "First you become the servant of everyone; then you become the temple commander." Thus Srila Prabhupada expressed the same idea, that a bigger position means becoming a bigger servant. And you, in parampara, had that same understanding.
Listening carefully to all of your instructions, we can understand how closely you followed the disciplic succession. Some of your statements were very close to Srila Prabhupada's words, and some took the basic principles that Srila Prabhupada gave and sweetened them with beautiful personal realization.
Another of your many fine qualities was your offenselessness. You were very careful not to commit any offense against any devotee, or any living entity, and if you felt you had committed an offense, you immediately tried to mitigate its effects by approaching the person, apologizing, and asking forgiveness. Somehow or other you tried to rectify the offense. From our point of view, we wouldn't think you had committed an offense, but within your pure heart you may have felt that you had, and immediately you would try to approach and please the person you feared you had offended, to remove the effects of the offense.
You exemplified the principle found in The Nectar of Devotion of "Not Giving Pain to Any Living Entity," which was supported with a reference from the
Mahabharata: "A person who does not disturb or cause painful action in the mind of any living entity, who treats everyone just like a loving father does his children, whose heart is so pure, certainly very soon becomes favored by the Supreme Personality of Godhead." That was you: so pure, just like a loving father to everyone–and favored by the Supreme Personality of Godhead.
You were a perfect gentleman–and Vaishnava. Once, an interviewer asked Srila Prabhupada, "How would I recognize a true follower of the Krishna consciousness movement by his behavior? What would his traits be? What would his outward expressions be?" And Prabhupada replied, "His behavior–he is a perfect gentleman. That's all. You cannot find any fault in him. That is perfect Krishna consciousness." That was you: a perfect gentleman–one could not find any fault in you.
Your heart was pure and very sensitive–full of appreciation for other devotees and sensitive to your own faults, which again, from our point of view, wouldn't even have been considered faults. That's really the heart of a Vaishnava–full of love and appreciation for others but sensitive to one's own deficiencies or mistakes.
As stated by Lord Krishna in the Bhagavad-gita (12.13-14), "One who is not envious but is a kind friend to all living entities, who does not think himself a proprietor and is free from false ego, who is equal in both happiness and distress, who is tolerant, always satisfied, self-controlled, and engaged in devotional service with determination, his mind and intelligence fixed on Me–such a devotee of Mine is very dear to Me." You exemplified all those qualities described by Lord Krishna and thus were very dear to Him–and to us, to all others.
Now you have left this world and gone to Srila Prabhupada and Lord Krishna.
As Srila Prabhupada said, when a Vaishnava departs we feel both happy and sad–happy because the Vaishnava has gone to serve Lord Krishna and sad because we will miss the Vaishnava's association. Sometimes the pain of separation is so intense that we can only recall Raya Ramananda's exchange with Sri Chaitanya Mahaprabhu (Cc Madhya 8.248):
"duhkha-madhye kona duhkha haya gurutara?"
"krsna-bhakta-viraha vina duhkha nahi dekhi para"
Sri Caitanya Mahaprabhu asked, "Of all kinds of distress, what is the most painful?"
Sri Ramananda Raya replied, "Apart from separation from the devotee of Krsna, I know of no unbearable unhappiness."
Still, we will try to be happy serving in separation. As Srila Prabhupada wrote to one of his disciples, "Please be happy in separation. I am separated from my guru maharaja since 1936, but I am always with him so long I work according to his direction. So we should all work together for satisfying Lord Krishna, and the feeling of separation will transform into transcendental bliss."
By serving Srila Prabhupada's–and your–instructions, we will feel his presence, and yours. And in fact we will live with you both. As Srila Prabhupada wrote in his dedication to Srimad-Bhagavatam: "To Srila Prabhupada Bhaktisiddhanta Sarasvati Gosvami Maharaja, my spiritual master:
He lives forever by his divine instructions and the follower lives with him."
Please look kindly upon us and guide and inspire us, following in your footsteps, to serve Srila Prabhupada and Sri Chaitanya Mahaprabhu, and when we have done what you want us to do here, bring us back to you and Srila Prabhupada's lotus feet.
Your eternal servant,
Giriraj Swami
HH Badrinarayan Swami shares some meditations HH Bhakti Charu Maharaja
July 7th, 2020
Dear disciples, followers, and friends of Bhakti Charu Maharaja:
Hare Krishna.
I offer my respectful obeisances unto His Holiness Bhakti Charu Swami, who is very dear to Lord Krishna, having taken shelter at His lotus feet.
I offer my obeisances to the lotus feet of His Holiness Bhakti Charu Swami, who is very soft-hearted and expert at compiling devotional literature.
He eloquently speaks the pastimes of Lord Krishna, his heart is full of the mellows of devotional service, and his life and soul is Srila Prabhupada.
Hare Krishna. What follows are a few meditations on the departure of Bhakti Charu Maharaja. We have all been deeply affected by this sad event—and that is testimony to the power of his exemplary life and association.
Let me begin by mentioning a few of his qualities that come mind:
Although a powerful and influential person, he was always humble, easily approachable, and friendly to all.
He was a strong and consistent voice for how we all needed to respect and cooperate with each other.
At the same time, he could be like a lion when it came to protecting ISKCON, the system of governance that Srila Prabhupada put in place, and Srila Prabhupada's mood and teachings. I was so proud of him, re-assured, and inspired when we were able to see him in this mood.
One of the qualities of his I hear mentioned again and again is how he was always such a gentleman. Srila Prabhupada said that this was a symptom of an advanced devotee.
He embodied sweet Vaisnava loving exchanges.
He was a refined person, expert at bhajans, drama, philosophy, and of course cooking. He was so happy when he could cook for the devotees, personally serving the prasadam, and seeing to it that each guest was filled to the neck with their favorite dish.
Others have narrated how Bhakti Charu Maharaja arrived as a young devotee, new to ISKCON, and Srila Prabhupada quickly raised him to brahmin initiation, sannyasa, and to serving as Srila Prabhupada's personal secretary and servant. Tamal Krishna Maharaja told me that he asked Srila Prabhupada at the time "Why is it that you have brought this new devotee up so quickly?"
Srila Prabhupada replied "I can see purity. You cannot".
We hear the question: "Why did he have to leave now?"
In reply, we know from shastra that pure devotees are under the divine energy of the Supreme Lord. My conviction is that Srila Prabhupada needed him and therefore he called Bhakti Charu Maharaja to his side.
We hear the question: "But why did he leave due to Covid?"
We should first note that Bhakti Charu Maharaja left this world, by Krishna's arrangement, on Guru Purnima / the disappearance day of Srila Sanatan Goswami. This is most auspicious and not by chance.
Srila Prabhupada gives the analogy that "The housewife teaches the daughter-in-law by teaching the daughter". Srila Prabhupada explains that sometimes devotees are put into suffering so that the rest of the world can learn a good lesson. The devotee's internal meditation on the Lord's lotus feet is not broken and the conditioned souls learn by seeing the devotee's example. All we have to do is think of the struggles of the Pandavas, Kunti devi, Draupadi, Prahlad Maharaja, as well as Srila Prabhupada's several heart attacks while coming to the West and starting ISKCON. Because these exalted souls were put into difficulty, by the arrangement of the Lord, we have their examples to learn from. I am convinced that Bhakti Charu Maharaj left the world as he did in order to make the rest of the devotees see this horrible disease as the grave threat that it is. There is symmetry here. Bhakti Charu Maharaja's core mood was service to the devotees. I see his departure due to Covid as Krishna using him in one final act of service to the devotees—to wake us all up to the dangers of this vicious disease.
Krishna accomplishes many purposes with one act. That is often the style of His lila. As Ranchor, His leaving the battlefield was to deliver Rukmini, shame Jarasandha, kill Kalayavana, and deliver Mucukunda. We can see the same in the departure of Bhakti Charu Maharaja, that is to say several purposes accomplished by one act. Krishna took Bhakti Charu Maharaja as He did because Srila Prabhupada needed him and to serve as a severe warning about Covid to the rest of us. We can also see that Krishna confirmed Bhakti Charu Maharaja's exalted spiritual stature by taking him on Guru Purnima / Srila Sanatan Goswami's disappearance day.
I remember the wave of grief that washed over me when I heard that Srila Prabhupada had left this world. One element of that grief was the fear that Srila Prabhupada might gradually fade into the background of my life. I can assure you, from my own experience, that the opposite will happen. For those who sincerely follow Bhakti Charu Maharaja's instructions and example, you will find your relationship with him becoming sweeter and deeper with every passing year. Rather than fading away, he will become your constant guide and companion.
Srila Prabhupada confirms this in his closing words upon completing his translation of and commentary on the Chaitanya Charitamrita:
Although according to material vision His Divine Grace Srila Bhaktisiddhanta Saraswati Thakur Prabhupada passed away from this material world on the last day of December, 1936, I still consider His Divine Grace to be always present with me by his vani, his words. There are two ways of association-by vani and by vapu. Vani means words, and vapu means physical presence. Physical presence is sometimes appreciable and sometimes not, but vani continues to exist eternally. Therefore, we must take advantage of the vani, not the physical presence.
I think that His Divine Grace Srila Bhaktisiddhanta Saraswati Thakur is always seeing my activities and guiding me within my heart by his words. As it is said in Srimad Bhagavatam, tene brahma hrda ya adikavaye [SB 1.1.1]. Spiritual inspiration comes from within the heart, wherein the Supreme Personality of Godhead, in His Paramatma feature, is always sitting with all His devotees and associates.
Certainly if His Divine Grace were physically present at this time, it would have been a great occasion for jubilation, but even though he is not physically present, I am confident that he is very much pleased by this work of translation. 
The vacuum felt by Bhakti Charu Maharaja's departure is immense. And that is how it should be. These feelings of separation are the proper testimony to Bhakti Charu Maharaja's life—so exemplary, so well lived. What more can we say? "He was a Vaikuntha man"—a saintly Vaisnava and surrendered servant of Lord Chaitanya Mahaprabhu and Srila Prabhupada.
The best way to find solace from the pain of Bhakti Charu Maharaja's separation is to remember his words, follow his example of a pure Vaisnava's life, and to redouble our dedication to the mission Bhakti Charu Maharaja gave his every breath to—Srila Prabhupada's ISKCON.
His Holiness Bhakti Charu Maharaja ki jai.
Your grieving servant,
Badrinarayan Swami
HH Sivarama Swami talks about disciples who may have 'lost some faith in Krsna..'
Bhakti Bibudha Bodhayan Swami says a few words on HH Bhakti Charu Maharaja
All Glories to Sri Brahma Madhva Gaudiya Saraswata Sampradaya (lineage).
All Glories to my beloved Grand Spiritual Master His Divine Grace Srila Bhakti Siddhanta Saraswati Goswami Thakur PRABHUPADA and my beloved Spiritual Master His Divine Grace Srila Bhakti Pramode Puri Goswami Thakur.
Our sampradaya's prominent heritage, His Divine Grace Srila Bhakti Charu Swami Maharaj, physically left all of us on the 4th of July 2020. I feel very much separation, remembering our association from the previous days. I saw how Srila Charu Maharaj used to come to my spiritual master, His Divine Grace Srila Bhakti Pramode Puri Goswami Thakur, at Kolkata's Sri Chaitanya Gaudiya Math and also at Sri Gopinath Gaudiya Math, Mayapur with many spiritual queries. Srila Charu Maharaja's service attitude to serve my Gurudeva was very beautiful. I have also seen Srila Charu Maharaja's faith on others spiritual uncles like His Divine Grace Srila Bhakti Rakshak Sridhar Goswami Maharaj and His Divine Grace Bhakti Alok Paramahamsa Goswami Maharaj. As I remember, Srila Bhakti Charu Maharaj engaged his disciples, Sriman Chaitanya Das Prabhu and Malini Devi (Sriman Chaitanya Das Prabhu's wife) to look after the education of my Gurudeva's brother's grandson, Vasudeva Prabhu. Srila Charu Maharaj also engaged Sriman Chaitanya Das and Malini Devi to give some monthly financial support for my Gurudeva's Ananta-Vasudeva temple located at Kalna. In 1994 Srila Charu Maharaja's disciple, doctor Subal Sakha Prabhu, from Anudul, Howrah (West Bengal) facilitated in the health care of my Gurudeva. Thus, Srila Charu Maharaj taught his disciples to generously serve senior Vaisnavas without discrimination. According to my own feeling, Srila Charu Maharaj and his disciples were always loyal to my Gurudeva.
When I was a brahmachari, I used to attend Srila Charu Maharaja's classes in the Conch Building. At that time Srila Charu Maharaj use to give classes on Srila Bhaktivinode Thakur's Jaiva Dharma on the rooftop. His classes were very attractive to me. I am very much remembering Maharaj today. Two months ago, I requested Srila Charu Maharaj to write a homage for my Gurudeva which would be included in my Gurudeva's biography. Srila Charu Maharaj composed a very sweet and faithful offering which was very heart-touching for me. All of Srila Charu Maharaj's sweet behavior really makes me feel separation from him. Right after Srila Charu Maharaj sent me his homage, he went to USA. I did not know that within such a short period of time we would get such heartache news of his departure.
I am praying to my worshipful Lord, Sri Sri Radha Gopinath Jiu, for engaging Srila Charu Maharaj in the service of his Gurudeva, His Divine Grace Srila A. C. Bhaktivedanta Swami Prabhupada eternally. From the bottom of my heart, I pray at Srila Maharaja's lotus feet: please forgive me for all of my offenses and bestow upon me your blessings to carry on the loving mission of Lord Chaitanya for the rest of my life under the shelter of my Gurudeva, HDG Srila Bhakti Pramode Puri Goswami Thakur with purity.
Haribol.
Yours in the Service of Sri Krishna Chaitanya Mahaprabhu's Mission,
Bhakti Bibudha Bodhayan.
Sri Gopinath Gaudiya Math (President) 
HG Ravindra Svarupa das says a few words about HH Bhakti Charu Maharaja
                                           A VERY PERFECT GENTLEMAN
At the time that I was voted onto the GBC, ISKCON and its governing body was undergoing an excruciatingly difficult period of trial and testing. However, there were compensations for all our trials and tribulations, and for me the main compensation was the opportunity to serve with a number extraordinary devotees, extraordinary especially in their dedication to Srila Prabhupada and to his mission. And chief among them, for me, was His Holiness Bhakti Caru Swami. Especially, he embodied, in his own singular way, that particular synthesis of opposites seen in the person of Srila Prabhupada and other great devotees: although, in the breadth and depth of his pure dedication to Guru and Krsna, he is awe-inspiring, the devotee himself seems to be altogether unaware of it. I had seen first hand in Srila Prabhupada that singular union of greatness and humility, and, somehow, here it was again, in Bhakti Caru Swami.
Owing to the generosity of his affection, Maharaja and I soon became not only colleagues but friends. I found it always a special delight to be with him—and it wasn't maya. That is because Bhakti Caru Swami was, unfailingly, "a very perfect gentleman," who exemplified Srila Prabhupada's succinct characterization of "a true follower" of his: 
Interviewer: How would I recognize a true follower of the Kṛṣṇa
consciousness movement by his behavior? What would his traits be? What
would his outward expressions be?
Śrīla Prabhupāda: He'd be a very perfect gentleman, that's all. You could
not find any fault in him. That is perfect Kṛṣṇa consciousness.
—Television Interview, Gainesville, Florida, July 29, 1971.
The last time I saw Bhakti Caru Swami was when I visited him in Florida last year. Just as I was about to leave for the airport, he took me aside to hand me a parting gift. It was an Apple Watch. (I suspected it was one of many timepieces with which Maharaja had been gifted, and I was delighted to have his remnants.) Since that time, I wear it every day. I'm wearing it right now. And it never fails to remind me of him.
Your fallen servant,
Ravindra Svarupa dasa
Radha Krishna das says a few words on HH Bhakti Charu Maharaja
Dear Bhakti Charu Swami Maharaja,
Please accept my respectful obeisances. All glories to You. All glories to
Srila Prabhupada.
This is the 3rd day we can't have your personal association. I'm so sad and
morose at the same time I'm sure that Krishna and his associates are
overflown with joy to have you among them.
A guru is someone who teaches by example. You were a guru who was teaching
the whole world. You were a guru who showed the best example of all
Vaisnava qualities beginning with humility and being devoid of pride. You
were the example of the 5 limbs of devotional service that Caitanya
Mahaprabhu emphasized.
Sadhu-sanga – you always hankered for the association of the devotees. You
were an amazing host, the most wonderful cook and friend of all. The way
you treated all the devotees equally not considering their position,
service, or seniority was so astonishing and humbling at the same time.
Nama-kirtana – no one has to prove your love for Kirtana and the devotees'
love for your kirtana. Thank you for showing the way of merging into the
chanting of the Holy Names.
Bhagavata-sravana – your exquisite classes are a neverending source of
inspiration for all of us. The way how you repeated the acaryas' words is
so unique and you always gave a fresh view to all the topics, thus proving
that if we listen to the Bhagavatam for many years still there is much more
to learn.
Mathura-vasa – you were not only living in the Holy Places in India but
wherever you went you turned that ordinary place into places of pastimes.
Even on your last journey, you were working so tirelessly on establishing a
new farm community fulfilling Srila Prabhupada's desire.
Sri-murti-seva – I was always looking at you, completely amazed, when you
so graciously performed arati with deep meditation for the deities and the
way how you participated in functions around deity worship.
Now I'm here, remembering all the wonderful days I've spent together with
during the GBC meetings and when you visited Hungary. You should know that
we are always thankful that we could have your association and we will do
our best to follow your footsteps.
Your servant,
Radha Krishna das
HH Bhakti Gauravani Swami talks about HH Bhakti Charu Maharaja being a 'true touchstone'
Dear devotees,
Please accept my humble obeisances.  All glories to Srila Prabhupada and his most beloved son Bhakti Charu Maharaja!
Bhakti Charu Maharaja was a true touchstone. Whoever came in contact with him was given an opportunity to experience a life-changing transformation. I experienced the magic of his presence for the first time in 1979 when we met in Calcutta. He was in charge of the local BBT office, and thanks to our common service as translators of Srila Prabhupada's books, we immediately connected as brothers in arms, exchanging our realizations.
Above all the wonderful qualities he embodied, it was his sweet and caring personality that captured my heart. Over the years this appreciation grew ever stronger, and it reached its culmination in 2004 when he was the first person to call me after my eldest son had suffered an accident and was hovering between life and death. Just to hear Maharaja's soothing voice and consoling words provided relief in those extreme circumstances.
A few days later, after my son had succumbed to his injuries, Bhakti Charu Maharaja called me again. As soon as I heard the tender tone of his voice, tears started to well up in my eyes, and I began to weep. "It's alright", he said softly, "you can let it all out; it is only natural to cry when we lose a person very dear to us." But at the end of the conversation, his concluding words cut through the fog of gloom and grief: "In times like this, we realize that there is actually nothing besides Krishna consciousness."
I can still hear his voice uttering those words, but now my heart is broken again. That very same person, a very dear and well-wishing friend  – not just to me, but to everyone – has suddenly left us. Although my intellect tells me that there is nothing to lament – vaisnavas don't die but continue to live in sound –, my heart does not want to hear such words. It simply wants to weep. So, I let it weep. It's alright.
But at the end, Maharaja's conclusion will have to prevail: "Actually, there is nothing besides Krishna consciousness."
But where do we find Krishna consciousness? We find it in devotees like Bhakti Charu Maharaja who are transparent via mediums because they carry Krishna in their purified hearts and let Him shine through wherever they go. As Prabhupada says in the Sri Caitanya-caritamrta (Adi 13.5): "Krsna is described to be like the sun. The supreme powerful is the Supreme Personality of Godhead Sri Krsna, or Lord Sri Caitanya Mahaprabhu, and His devotees are also bright and illuminating because they reflect the supreme sun."
Thus, when such devotees leave, it appears as if the world had gone dark. In such moments of confusion and painful separation the only light of hope is the remembrance of their vani presence. Because it is, of course, true: Vaisnavas don't die but continue to live in sound. As Srila Prabhupada points out in the Concluding Words in Caitanya-caritamrta: "Physical presence is sometimes appreciable and sometimes not, but vani continues to exist eternally. Therefore we must take advantage of the vani, not the physical presence." After Prabhupada's departure in 1977, that was our only solace. And it will continue to be so, until we are allowed to join him again. Meanwhile vani will fill the void.
Bhakti Charu Maharaja's departure has also left a terrible void. In his physical absence, his vani will give solace. And there is great hope that in the not too distant future we will be able to join him again. After all, he is waiting for us under the umbrella of Srila Prabhupada's lotus feet.
Your servant,
Bhakti Gauravani Goswami         
Sesa das talks about HH Bhakti Charu Maharaja being a 'courageous firebrand…'
IN GLORIFICATION OF HIS HOLINESS BHAKTI CHARU MAHARAJA
Can you picture our dear Vaisnava gentleman His Holiness Bhakti Charu
Swami as a sword wielding, eye for an eye, tooth for a tooth, general on
the battlefield, a courageous soldier in the thick of battle,
waging war on behalf of ISKCON? A more predominant view of Maharaja
is one who is a source of inspiration, refuge, and hope. However, as I
reflect on my recent GBC Executive Committee service with Bhakti Charu Swami, an instance of such a military persona stands out vividly in my mind.
At a crucial juncture in the recent attempt to hijack the Brooklyn temple , it became a legal necessity to publically remove the revolting officers of the temple. The time and place chosen for the GBC offensive was the Brooklyn temple Sunday Feast program when the largest number of congregants would be present. We knew that these circumstances heavily favored the recalcitrants, yet an open confrontation was unavoidable.
Someone from the GBC had to go into this hostile atmosphere, seize control
of the situation, publically announce the removal of the temple president,
and thus restore GBC authority. His Holiness Bhakti Charu Swami
volunteered for the assignment.
Entering the temple and commandeering the microphone Maharaja made
the required pronouncements. Immediately there arose an outcry from
the temple leaders and their supportive audience. Undaunted, Maharaja
continued with the GBC message. An attempt was made to remove the microphone from Maharaja's hand. Maharaja was able to retain control and immediately began a boisterous kirtan which lasted for half an hour and defused the opposition. Maharaja then triumphantly departed from the temple room having accomplished the GBC objective. The temple authorities and their lawyer
called the police, but it was too late as they arrived subsequent to Bhakti Charu
Maharaja's important strategic victory. Indeed, this incident helped to turn the tide in the struggle to regain both legal and physical control of the Brooklyn
temple.
Our dearmost Vaisnava friend *was* a courageous firebrand in defense of
Srila Prabhupada's ISKCON. He could, and did, do it all in Srila
Prabhupada's service whether it be preaching to friend or chastising foe. Whatever challenges he faced he met by calling upon the unlimited well of sincerity which is his heart.
I salute him as he departs to his next assignment and pray to one day
again be his comrade in arms.
Sesa das
HH Bhakti Vijnana Goswami says a few words about HH Bhakti Charu Maharaja
Please accept my humble obeisances. All glories to Srila Prabhupada.
While I am still trying to come in terms with the devastating news about the
sudden departure of Bhakti Charu Maharaja, there is also a strong urge to
glorify this exalted Vaisnava with the hope that it will give some solace to
my heart.
Out of his numberless outstanding contributions to our movement like "Abhay
Charan" serial, construction of the beautiful temple in Ujjain, establishing
and teaching in the GBC College, etc. etc., perhaps the most significant is
his untiring efforts to unite our movement around Srila Prabhupada in the
center. And he was extremely successful in these endeavors due to his
complete, absolute selfless dedication.
Srila Bhakti Charu Maharaja himself observed in one of his recent lectures
that one of Srila Prabhupada unique characteristics is that even in India
where everyone knows about ISKCON and Hare Krishna's, not so many people are aware about Srila Prabhupada's personality. Unlike many other charismatic
Indian spiritual leaders, Srila Prabhupada did not want to promote himself.
He was promoting the chanting of the holy name and the teachings of Sri
Caitanya Mahaprabhu, and was not promoting himself. In the similar way,
Srila Bhakti Charu Maharaja as an absolutely loyal disciple was only
promoting Srila Prabhupada and ISKCON. There is not the slightest trace of
self-promotion in his presentation of Krishna consciousness. And that is one
of the reasons why he was able to touch so many hearts.
And even now, by his sudden departure he continues to unify ISKCON. Now
everyone from the beginners to the greatest leaders feel united in
glorification of Bhakti Charu Maharaja.
It is an irreparable loss for all of us. One thought though gives me some
solace – he was not of this world. He was like a lotus flower, which grows
from the mud in the water, but still is completely unaffected by the muddy
environment, not to the slightest extent. Sri Gauranga Mahaprabhu gave this
sent this perfect servant of His to assist Srila Prabhupada in his mission,
and He also showed to all of us by the example Bhakti Charu Maharaja what it
means to be a Vaisnava. And now Gauranga Mahaprabhu just called him back.
Now, after his departure, I feel like an orphan myself. I spoke with many
devotees who knew him, even though they were not his direct disciples. They
all feel the same. The son after the departure of his loving and protective
father, feels the need to become more mature in order to survive in the
hostile environment. In the similar way, I hope and pray that now we as a
spiritual movement, after the departure of Srila Bhakti Charu Swami
Maharaja, who was protecting ISKCON from internal strife, will have to
become mature and united to be able to continue preaching the message of
Srila Prabhupada in this material world.
Your servant Bhakti Vijnana Goswami.
Gauranga das says a few words about HH Bhakti Charu Maharaja 
Dear Bhakticharu Swami Maharaja,
Please accept my humble obeisances.All glories to Srila Prabhupada
It is still an unbelievable shock for me to know that I will not be able to
associate with you the way I used to. I can visualise you walking so
elegantly as if you are floating and this quality of effortless grace
permeates every aspect of your personality.You are so dear to Srila
Prabhupada that on the first meeting itself Srila Prabhupada gave you the
mammoth seva of translating all his books into Bengali,a seva which you
diligently and successfully completed as an offering to His Divine Grace
Srila Prabhupada on his centennial year.
When the GBC college began in 2015,I sent you the PDF of a document which
we had prepared called 'Being Srila Prabhupadanugas' which has thematic
sections on leadership guidelines for ISKCON based on Srila Prabhupada's
quotes.We planned to share soft copy PDF's only with the students at that
time.When you read through the document you called me and insisted on
printing this for all the participants.I said time is less and how will
this happen.You said I will take care and within a week's time you not only
printed 200 hard bound copies of this book but also brought them with you
for distributing to the college students.I had asked you on what made you
print these and your response touched my heart.You said 'The future of
ISKCON leadership is very much dependant on how we understand Srila
Prabhupada's mood and instructions and by applying that we please him'
In the Ujjain Kumbha Mela 2016 I was assisting you in the prasadam
distribution to the masses and you mentioned that apart from prasadam
distribution we should have a superexcellent preaching set up like the
multimedia dome.I was taken aback as Kumbha Mela set up is quite austere
and basic and how would a sophisticated set up like a multimedia dome be
managed.You were quite confident that such a special effort of a high
calibre preaching exhibit would make ISKCON's camp famous in the entire
Kumbha Mela Campus.And you actually made it happen and the multimedia dome in ISKCON camp was the talk of the entire Kumbha Mela.I admire your vision to spread Krishna Conciousness in amazing ways and have witnessed your rock like determination to do so irrespective of challenges and obstacles.
I pray that I will be able to remember and apply the invaluable pearls of
wisdom you have shared with me on the nuances of Krishna Conciousness and
appreciations of Srila Prabhupada.
With a heart heavy with the grief of separation from you,
Aspiring to be a speck of dust at your lotus feet,
Your servant,
Gauranga Das