HG Madhusevita das says a few words on HH Bhakti Charu Maharaja
Where will I find that loving smile filled with care and affection that made
you feel so important though you are worthless…., that caused you to
remember Prabhupada in any circumstance…, that was pure sweetness…?
I am so angry at you for leaving me here unprotected.
Why did you decide to go back to Srila Prabhupada's Lotus Feet not caring
for how we would be unable to tolerate your departure? 
With whom shall I laugh reading those signs in Italian that have a strange
meaning in Bengali?
Are you going to tell Srimati Radharani that I treated you harshly when you
were Bhakta Kishor? Or that you had to cook for me your "monk delight"
recipe day after day when we were together in Calcutta?
Oh my most beloved brother, can you please plead my case with the Acaryas so
that I may join you again in the intimacy of our Prabhupada family?
I won't forget you; even if Krishna gives me a long span of life, I will
imprison you in the core of my heart and cultivate the ardent desire to hug
you again.
Your devastated servant, brother and friend,
Madhusevita das
HG Virabahu das says a few words on HH Bhakti Charu Maharaja
When something is arranged by the Supreme Personality of Godhead, one should not be disturbed by it, even if it appears to be a reverse according to
one's calculations.
For example, sometimes we see that a powerful preacher is killed, or
sometimes he is put into difficulty, just as Haridasa Thakura was. He was a
great devotee who came into this material world to execute the will of the
Lord by preaching the Lord's glories. But Haridasa was punished at the hands
of the Kazi by being beaten in twenty-two marketplaces. Similarly, Lord
Jesus Christ was crucified, and Prahlada Maharaja was put through so many
tribulations. The Pandavas, who were direct friends of Krsna, lost their
kingdom, their wife was insulted, and they had to undergo many severe
tribulations.

Seeing all these reverses affect devotees, one should not be disturbed; one
should simply understand that in these matters there must be some plan of
the Supreme Personality of Godhead. The Bhagavatam's conclusion is that a
devotee is never disturbed by such reverses. He accepts even reverse
conditions as the grace of the Lord. One who continues to serve the Lord
even in reverse conditions is assured that he will go back to Godhead, back
to the Vaikuntha planets.

>>> Ref. VedaBase => SB 3.16.37
TRANSLATION
Bhismadeva said: Oh, what terrible sufferings and what terrible injustices
you good souls suffer for being the sons of religion personified. You did
not deserve to remain alive under those tribulations, yet you were protected
by the brahmanas, God and religion.
[…]
TRANSLATION
As far as my daughter-in-law Kunti is concerned, upon the great General
Pandu's death, she became a widow with many children, and therefore she
suffered greatly. And when you were grown up she suffered a great deal also
because of your actions.
PURPORT
The sufferings of Kuntidevi are doubly lamented. She suffered greatly
because of early widowhood and to get her minor children brought up in the
royal family. And when her children were grown up, she continued to suffer
because of her sons' actions. So her sufferings continued. This means that
she was destined to suffer by providence, and this one has to tolerate
without being disturbed.
TRANSLATION
In my opinion, this is all due to inevitable time, under whose control
everyone in every planet is carried, just as the clouds are carried by the
wind.
PURPORT
[…] Everyone has to bear the actions and reactions of time as long as one is
within the conditions of the material world. Yudhisthira should not think
that he had committed sins in his previous birth and is suffering the
consequence. Even the most pious man has to suffer the condition of material
nature. […] One should not be disturbed by the tricks of eternal time. Even
the great controller of the universe, Brahmaji, is also under the control of
that time; therefore, one should not grudge being thus controlled by time
despite being a true follower of religious principles.

TRANSLATION
O how wonderful is the influence of inevitable time. It is
irreversible-otherwise, how can there be reverses in the presence of King
Yudhisthira, the son of the demigod controlling religion; Bhima, the great
fighter with a club; the great bowman Arjuna with his mighty weapon Gandiva;
and above all, the Lord, the direct well-wisher of the Pandavas?
PURPORT
[…]Despite the power of pious acts, the power of personalities, the power of
expert management and the power of weapons under the direct supervision of
Lord Krsna, the Pandavas suffered so many practical reverses, which can only
be explained as due to the influence of kala, inevitable time. Kala is
identical with the Lord Himself, and therefore the influence of kala
indicates the inexplicable wish of the Lord Himself. There is nothing to be
lamented when a matter is beyond the control of any human being.
TRANSLATION
O King, no one can know the plan of the Lord [Sri Krsna]. Even though great
philosophers inquire exhaustively, they are bewildered.
PURPORT
The bewilderment of Maharaja Yudhisthira over his past sinful acts and the
resultant sufferings, etc., is completely negated by the great authority
Bhisma (one of the twelve authorized persons). Bhisma wanted to impress upon
Maharaja Yudhisthira that since time immemorial no one, including such
demigods as Siva and Brahma, could ascertain the real plan of the Lord, and
so what can we understand about it? It is useless also to inquire about it.
Even the exhaustive philosophical inquiries of sages cannot ascertain the
plan of the Lord. The best policy is simply to abide by the orders of the
Lord without argument.
>>> Ref. VedaBase => SB 1.9.12-16
HH Kavicandra Swami says a few words on HH Bhakti Charu Maharaja
Dear disciples of His Holiness Bhakti Caru Swami.
As I was thinking about what I could write I heard an address by HH
Radhanatha Swami. Of course he said everything that I wanted to say and
more, and with more eloquence. In case you have not heard it here is the
link;
https://youtu.be/mXJ7nDC_Gvk
His Divine Grace A C Bhaktivedanta Swami Prabhupada gave us this sublime
guidance on the first page of his SRIMAD BHAGAVATAM.
Dedication To Srila Prabhupada Bhaktisiddhanta Sarasvati Gosvami Maharaja MY SPIRITUAL MASTER
On the 26th Annual Ceremony of His Disappearance Day
He lives forever by his divine instructions and the follower lives with him.
I know that anyone who truly follows Srila Bhakti Caru Swami is
following our Founder Acarya, His Divine Grace A C Bhaktivedanta Swami
Prabhupada.
When I was asked to speak something about Srila Bhakti Caru Swami at a
kirtan program I said that he was the "personification of Vaisnava
culture". Being quite uncultured myself I could not say much more except
to glorifying some of his services to Srila Prabhupada, especially his
translating all of Srila Prabhupada's books.
I cannot say that I know how you feel at this point in time.
Since my youth I was known as a cold hearted person. I do know that
you are most fortunate to have such a Spiritual Master. Lord Caitanya
made such an arrangement for his passing that thousands of intense Hare
Krsna Kirtans were being inspired and broadcast all over the world. When
I witnessed all the love for Srila Bhakti Caru Swami being expressed by his
god brothers the following verse from Sad Goswami ASTAKAM came to my mind.
dhiradhira-jana-priyau priya-karau nirmatsarau pujitau
They are just like the ocean of love of God, and they are popular both with
the gentle and with the ruffians, because they are not envious of anyone.
Whatever they do, they are all-pleasing to everyone, and they are fully
blessed by Lord Caitanya. Thus they are engaged in missionary activities
meant to deliver all the conditioned souls in the
Type to enter text material universe.
Of course we can find the qualities of HH Bhakti Caru Swami in other
verses, but for me that one stood out in my mind.
His departure on the day of Srila Sanatana Goswami's disappears was
perfect. Sanatana Goswami was also known as the friend of everyone.
That is that day of Guru Purnima and the day when the most pilgrims are
doing Govardhan Parikrama.
Bhakti Caru Swami has great love for ISKCON. You are an important part of
the the future of Srila Prabhupada's International Society for Krsna
Consciousness.
Your servant
Kavicandra swami
HG Nrsimhananda das says a few words on HH Bhakti Charu Maharaja
If the purpose of bhakti is to love Krishna and all of his parts and
parcels, no one exemplifies it more than Bhakti Charu Swami. He lived by an
unstated maxim that was demonstrated in all of his relationships: it was to
love whoever was around to be loved. He didn't just shower affection on
his immediate peers; he was an equal-opportunity care-giver. Being in his
presence, you got the idea that you were as important as any of his most
intimate friends. That "talent" was not "grown"; it was a manifestation of
his spiritual nature. I recently told someone that the camera loved
Maharaja. He could say anything on screen and would always come out
smelling like (offered) roses. He had a "star" quality. Superstar,
really. There was only one Bhakti Charu Swami in Iskcon; he is
irreplaceable. His presence will continue through his lectures and
activities, but, especially, in the disciples whom he nurtured and
counseled. There is a saying that like attracts like, so, maybe, there are
some of his chelas who will partially fill the void left by his departure.
Nothing will replace it entirely. If I were to be so bold as to offer any
advice, it would be to fully indulge yourselves in that paralyzing sense
of profound loss. It is an emblem of your love and dedication to your
gurudev. In the future, it will be a memorable access to the gratitude and
inspiration which you received by his physical presence. Just a few days
before he departed for the US, he called me in the wee hours of his night.
"What are you doing up so early, Maharaja?" It was 2am IST. He was
thinking how the society could put Srila Prabhupada more in the center. He
was concerned for the future, and was unable to sleep just thinking about
it. We spoke for half an hour. I consider that last conversation with him
one of the great blessings of my life. He was so pure-hearted. I loved
him. For him, Iskcon was his family – a found family, and we were all his
brothers and sisters. The unspoken problem with found families is exactly
the same as the problem with every other sort of family. There is no
perfect structure, no single set of rules, that can guarantee that people
will always be decent to each other, will ever not get their hearts broken.
Maharaja knew this secret all too well. He wore his devotional heart on
his sleeve – easy for anyone to see, appreciate, feel, and, also, hurt. It
is what made him a moon among stars. Along with all of you, his
disappearance breaks my heart, too.
HH Giridhari Swami says a few words on HH Bhakti Charu Maharaja
Dear Disciples of His Holiness Bhakti Charu Swami Maharaja,
Please accept my humble obeisances. All glories to Srila Prabhupada.
Late Saturday evening, I was informed that your Guru Maharaja had left this world. I cannot imagine the devastating pain of separation you must be going through, but I do know the pain that I am suffering, and it is intense. I am reminded of the conversation between Śrī Caitanya Mahāprabhu and Śrī Rāmānanda Rāya:
Śrī Caitanya Mahāprabhu asked, "Of all kinds of distress, what is the most painful?"
Śrī Rāmānanda Rāya replied, "Apart from separation from the devotee of Kṛṣṇa, I know of no unbearable unhappiness." 
(Madhya 8.248)
Your Guru Maharaja's departure has brought out emotions in me similar to those I felt when Srila Prabhupada wound up his manifest pastimes in 1977. We all knew that Srila Prabhupada would leave us soon, but when he did, time stopped, and the earth stood still. All we could do was chant and weep, chant and weep.
Your Guru Maharaja was an ISKCON luminary, who offered extraordinary service, all for the pleasure of Srila Prabhupada, his very life and soul. His purity, good qualities, expertise, dedication and surrender attracted Srila Prabhupada's mercy, and he was blessed by his spiritual master to accomplish herculean tasks.

I had the good fortune of associating with your Guru Maharaja during the 2019 GBC midterm meetings held in Tirupati. Numerous times throughout that visit he would give me a long, warm and loving embrace and say, "My dear old friend, my dear old friend." And he would reminisce about the times he visited our Hong Kong yatra in the 1980's when we worked closely together to publish his series of books for children. He called these happy days, when he cooked for the devotees, led kirtan and gave classes to our newly recruited Chinese devotees. He was always very liberal with his association and enlivened one and all.
My association with Bhakti Charu Swami Maharaja was in no way unique. Everyone who met him had the same experience. He was a highly cultured Vaisnava gentleman, with very refined good qualities. He attracted everyone with his kind and loving heart. Everyone loved him because he loved everyone.
Nothing pleased him more than to serve the devotees, especially his godbrothers and godsisters, by hosting them for prasadam, arranging for their accommodation and taking care of their each and every need.
Numerous times throughout the years, His Holiness Tamal Krishna Goswami Maharaja and I would stay with him in Kolkata, and he would personally arrange for every detail imaginable for our stay. He was the most gracious and expert host that I have ever met.
All of us will sorely miss Bhakti Charu Swami Maharaja's physical association, but we take solace in the fact that Srila Prabhupada and Radha-Madhava have called him to rejoin Them in Their eternal pastimes.
Now is the time for you to fully embrace your Guru Maharaja's instructions, take shelter of his godbrothers and godsisters and keep the sanga strong amongst yourselves. Bhakti Charu Swami Maharaja worked tirelessly on behalf of Srila Prabhupada to create an ISKCON where devotees were well cared for, fully enlivened, and worked together harmoniously. We will all honor his legacy by following in his wake.
I am already in contact with some of you directly. But if there is anything, anything at all that I do for you in this difficult time, please don't hesitate to write or call.
All glories to His Holiness Bhakti Charu Swami Maharaja!
Thank you.
Hare Krishna and I pray this meets you well.
Your servant,
Giridhari Swami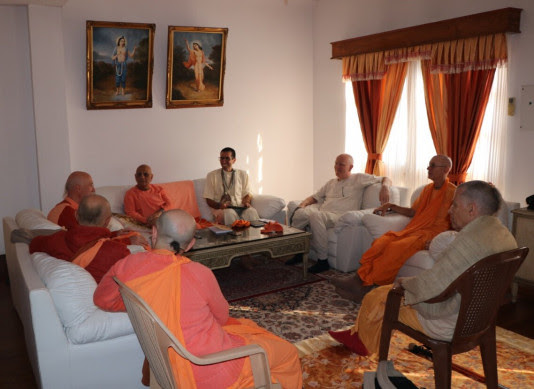 ISKCON Ministry of Cow Protection and Agriculture (IMCPA) says a few words on HH Bhakti Charu Maharaja
Dear well wishers of the ISKCON Ministry of Cow Protection and Agriculture,
Please accept my humble obeisances. All glories to Srila Prabhupada!
As you all must have heard by now, our very dear, senior Vaisnava and close associate of Srila Prabhupada, H.H. Bhakti Charu Swami has departed this world, on the Guru Purnima tithi, in Orlando, Florida, near to the Deland farm project that he had recently initiated. For me, amidst my personal feelings of loss and disorientation in his absence, I feel it is very significant that Maharaja had been intending to be at Deland at this time. I am reminded of Srila Prabhupada's great desire to make a final visit to Gita Nagari, despite his dwindling health, in September 1977. He wanted to go to Gita Nagari because he wanted to encourage the devotees there to develop that project, to realize his vision of Krishna conscious rural communities based on cow protection and agriculture. Bhakti Charu Swami's desire to go to Deland, despite advice from his close attendants in India not to travel under the present dangerous conditions of the COVID-19 pandemic, is for me a very strong message that he wanted to put special emphasis on the importance of not only the Deland farm, but all the ISKCON rural community projects.
As we know, H.H. Bhakti Charu Swami's support for the IMCPA was very substantial. By his stature among the leaders of our Society, he was able to call attention to the importance of the ministry; he supported it financially; he helped in making favorable legal arrangements for the North American branch of the Ministry; he personally attended a farm meeting in Deland (thereby foregoing his expected participation in London Rathayatra); he helped form the Ministry's board of advisors and, as some of us personally witnessed in Sridham Mayapur this last February, he took part in formation of the Ministry's Council of Elders, thereby hosting the ceremony establishing H.H. Smita Krishna Swami as the Council's first member.
Even as we mourn the departure of Bhakti Charu Swami Maharaja, let us be resolved to carry on our mission to facilitate and expand this very essential component of the Krishna consciousness movement, namely, the application of "plain living and high thinking" through rural, agricultural, cow-based living. And let us continue to be inspired by remembering the example that Bhakti Charu Swami Maharaja set for us.
Your servant,
Krishna Kshetra Swami
On behalf of the IMCPA advisory board
An Incalculable Loss for the The GBC College
His Holiness Bhakti Charu Maharaja had been a Trustee of the GBC College for Leadership Development from its inception, in October 2014. 
He led from the front: he was the GBC who attended and taught in most parts of the world, in most residential courses.
He also recorded an online seminar on Vaisnava etiquette, which, fortunately, will continue to instruct the students. 
Starting on day one of the first residential training at the Govardhana Ecovillage, in March 2015, Maharaja travelled to a number of locations to stress the importance of the institution, to offer foundational guidelines for the unity and longevity of the movement, to share the glories, the history and the culture of Gaudiya-vaisnavism, and to inspire devotees to see Krishna consciousness as the only solution for the maladies of this world. 
He traveled to Sochi, in the South of Russia, for the GBC College course there. 
He traveled to Campina Grande, Brazil, (I believe this was the first and only time his lotus feet touched the South American continent). According to his personal assistant, on that occasion he also shared with the students at an unusual level of intimacy, about his direct experiences with Srila Prabhupada. 
He traveled to New Vrindavana, West Virginia, last year, to provide association and direction to the future North American leaders. 
He traveled to Tirupati this last March, and, among other subjects, he presented his wake-up-call seminar "The Only Hope for This World."
Among the less visible aspects of his support, he not only encouraged leaders from his zone to attend the courses, but also supported that his disciple Rupanuga Prabhu become the President of the GBC College – which made a big difference.
The GBC College loses an active Trustee, the most committed teacher among the GBCs, a charming presenter, a vigorous promoter of unity, cooperation and the sacredness of the institution, and a messenger of love.
Your servant
Kaunteya das (GBC College Trustee)
HH Bhakti Brhat Bhagavat Swami shares a brief biography on HH Bhakti Charu Maharaja
Dear Devotees
Please accept my humble obeisances. All glories to Srila Prabhupada.
Please see attached file in 'pdf' and 'word' for:
His Holiness Bhakti Caru Swami and Srila Prabhupada – Brief compilation with
personal concluding words by Bhakti Brhat Bhagavata Swami.
Thank you. Hare Krishna.
Your servant
Bhakti Brhat Bhagavata Swami