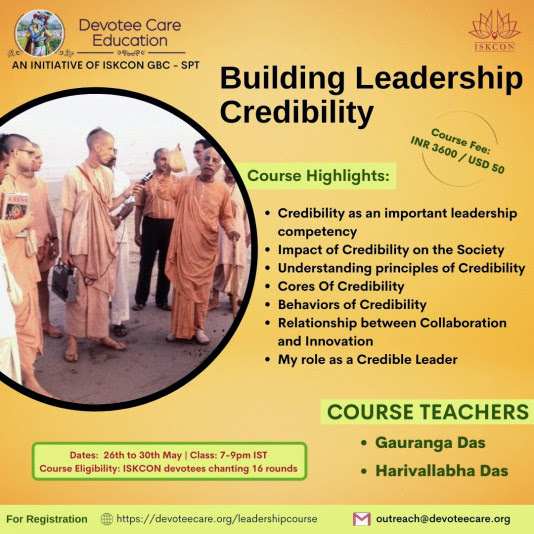 Dear Maharajas and Prabhus,
Please accept my humble obeisances! All glories to Srila Prabhupada
We are very happy to share that the GBC Strategic Planning Team has launched an Online Leadership Development Program for ISKCON devotees.
Following are the details of the course:
Online Leadership Development Course
Topic: Building Leadership Credibility
Course Teachers: Gauranga Das and Harivallabha Das
Dates: 26th to 30th May 2021 (Wednesday to Sunday) 7 to 9pm IST
Sub-Topics which will be covered:
– Credibility as an important leadership competency
– Impact of Credibility on the Society
– Understanding principles of Credibility
– Cores Of Credibility
– Behaviors of Credibility
– Relationship between Collaboration and Innovation
– My role as a Credible Leader.
Eligibility: ISKCON devotees chanting 16 rounds
In order to register for the course, please visit https://devoteecare.org/leadershipcourse
Last date of registration: 24 May 2021
For further details, please see the attached flyer.
Your servants,
GBC SPT