Message from HH Bhakti Caitanya Swami, the Chairperson of the GBC EC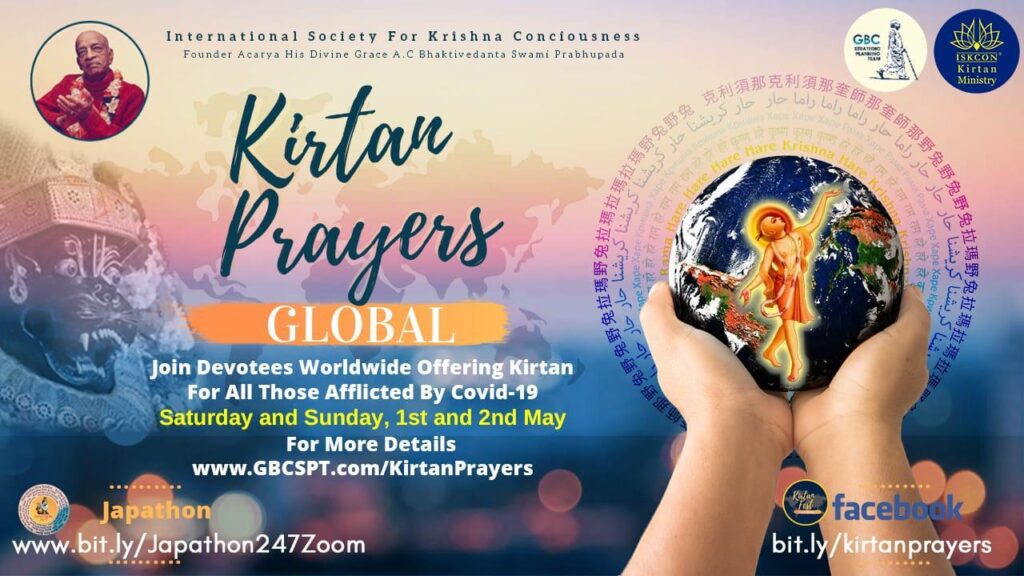 Let's Do Kirtan for Our Devotees in India and Other Places Affected by Covid
India and the World needs your prayers more than ever!

Srila Prabhupada wrote in the 9th Canto, "In these days of drought, people can gain relief from scarcity of rain and food by the simple method of the Hare Kṛṣṇa yajña. Indeed, this can relieve all of human society."

How can you help?
Offer a Kirtan

To spread the kirtans online you can stream them live on your social media pages or you can join our Facebook group Kirtan Prayers Global Online – www.bit.ly/kirtanprayers and broadcast there.

In either case please add the tags #KirtanPrayers and #KirtanAgainstCovid along with any other hash tags you normally use.

The devotees in Mayapur are eager to report all of these kirtans to Sri Narasimhadev in a special ceremony held live on Mayapur.tv every morning about 9 a.m. IST.

To include your kirtan in this report please send photos and details to Kirtanprayers@ISKCONKirtanMinistry.com

Offer Extra Rounds

Chant extra rounds at home or chant together online! There is a special online Japathon that has been organised which is happening 24/7 currently.

To join click the link – www.bit.ly/Japathon247Zoom

Thank you in advance for your participation. Please forward this message to your mailing & WhatsApp lists and post it on your social media pages as well.

Now is the time to unite together in Kirtan and Japa! It is all auspicious—everyone is benefited.

Your servants,
GBC SPT & ISKCON Kirtan Ministry
Covid-19 Disclaimer: Our content does not express the official position of the GBC Body and is solely the opinion of the respective authors. The GBC Body does not give medical advice and neither does it encourage/discourage vaccinations or any other medical precautions or treatments.